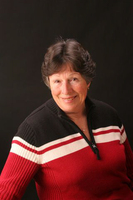 Barb has lived in Danville nearly all her life except for the four years she followed her husband, David, when he was serving in the US Navy.
Coming back home to Vermont, the couple stayed busy raising 3 children and in 1983 bought the family farm on Pumpkin Hill where they had a very successful Jersey dairy farm. When they sold their Jersey herd in 1999 and switched to Beefalo cattle, Barb got her Real Estate license and began her career as an agent for Begin Realty Associates.
What began as a "little something to keep her busy," became one of the most interesting and satisfying chapters in a full and happy life. Her knowledge of the Northeast Kingdom has been a great benefit to Buyers and Sellers from all over the country and the lasting friendships of many former clients and customers have been an added bonus.
Barb is still an active Realtor® ready & willing to help you with all your Real Estate needs. You can find her most days at the Danville office at (802) 684-1127 or try her cell phone at (802) 535-5023.